Postgraduate degree in integrative psychotherapy
Integrative psychotherapy
Integrative psychotherapy embraces first and foremost a particular attitude towards the practice of psychotherapy which affirms the importance of a unifying approach to persons. Thus a major focus is on responding appropriately and effectively to the person at the emotional, spiritual, cognitive, behavioural and physiological levels.
The aim of this is to facilitate integration such that the quality of the person¹s being and functioning in the intrapsychic, interpersonal and socio-political space is maximised with due regard for each individual¹s own personal limits and external constraints. Within this framework it is recognised that integration is a process to which therapists also need to commit themselves. Thus there is a focus on the personal integration of therapists. However, it is recognised that while a focus on personal growth in the therapist is essential there needs also to be a commitment to the pursuit of knowledge in the area of psychotherapy and its related fields. Therefore the EAIP defines as ³integrative² any methodology and integrative orientation in psychotherapy which exemplifies or is developing towards, a conceptually coherent, principled, theoretical combination of two or more specific approaches, and/or represents a model of integration in its own right. In this regard there is a particular ethical obligation on integrative psychotherapists to dialogue with colleagues of diverse orientations and to remain informed of developments in the field.
A central tenet of integrative psychotherapy is that no single form of therapy is best or even adequate in all situations. Integrative psychotherapy therefore promotes flexibility in its approach to problems but also subscribes to the maintenance of a standard of excellence in service to clients, in supervision and in training. Thus when integrative therapists draw on different strategies, techniques and theoretical constructs when dealing with particular situations, this is not done haphazardly but in a manner informed both by clinical intuition and a sound knowledge and understanding of the problems at hand and the interventions to be applied.
In the final analysis Integrative Psychotherapy, while affirming the importance of foregrounding particular approaches or combinations of approaches in regard to specific problems, nevertheless places the highest priority on those factors which are common to all psychotherapies, especially the therapeutic relationship in all its modalities. In regard to the therapeutic relationship however, particular emphasis is placed on the maintenance of an attitude of respect, kindness, honesty and equality in regard to the personhood of the client in a manner which affirms the integrity and humanity both of the self and the other.
Integrative psychotherapy affirms the importance of providing a holding environment in which growth and healing can take place in an intersubjective space which has been co-created by both the client and the therapist.²
Downloaded from EAIP 1997.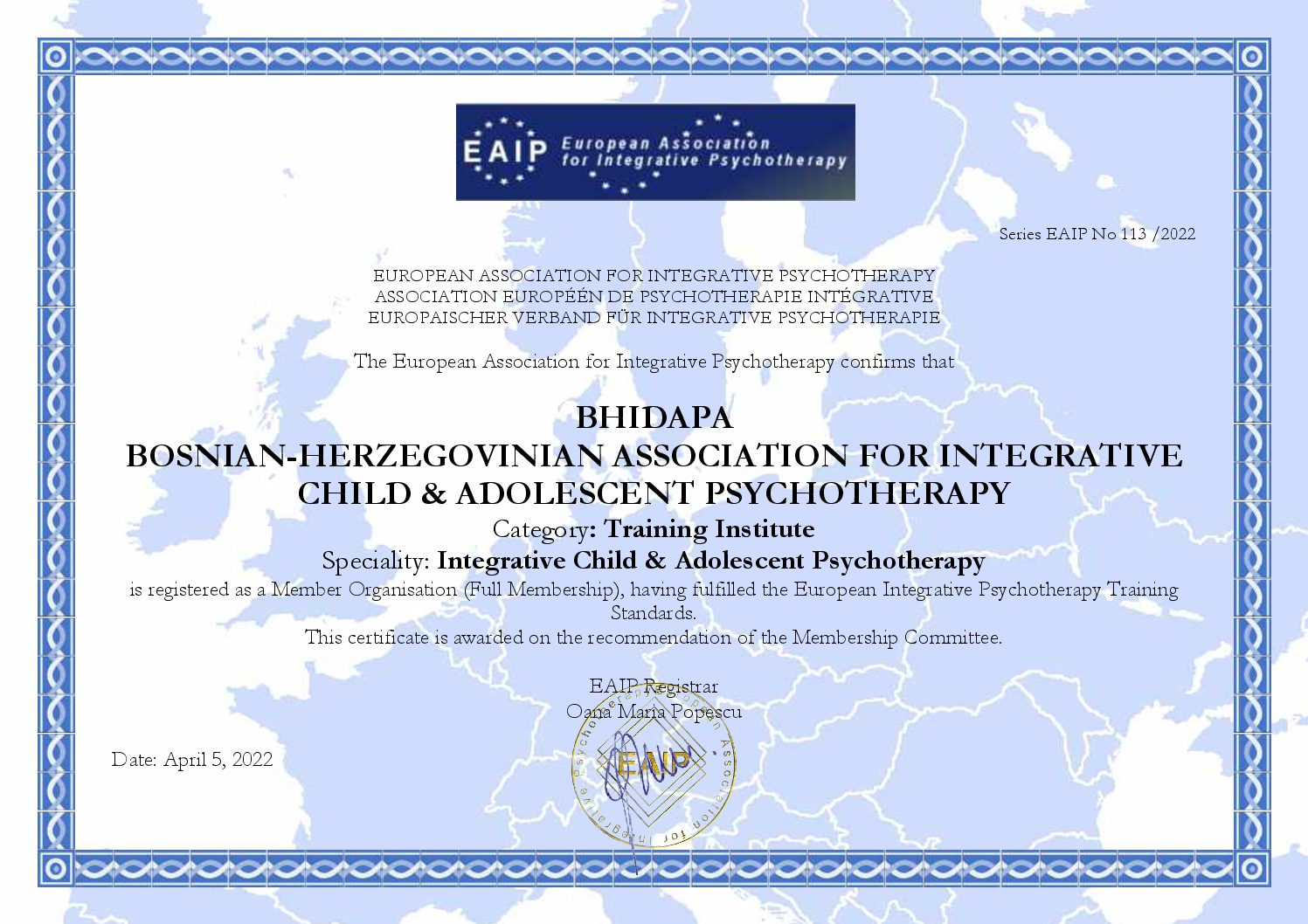 About education
Integrative psychotherapy emphasizes the importance of a holistic approach to working with people. Its goal is the integration of personality, which means the integration of the emotional, cognitive and physiological system of the individual with regard to the social and spiritual dimension.
Integrative psychotherapy stems from the belief that individual schools of psychotherapy relate to only one aspect of the human personality. For this reason, integrative psychotherapy connects different approaches to psychotherapy (psychoanalytic therapy, gestalt therapy, transactional analysis and other orientations). Integrative psychotherapy is also based on empirically supported common and specific factors of psychotherapy.
Integrative psychotherapy methods are based on respect for the client's subjective experience and are consistent with the relational view of psychotherapy. Research into normal developmental processes and problems arising from disorders in the early relationship between a child and significant others is very important. Especially in integrative psychotherapy, important factors are common to different schools of psychotherapy, with the therapeutic relationship playing a central role.
Integrative psychotherapy is used in treatment with individuals, couples, families and groups.
The four-year educational program in integrative psychotherapy at the BHIDAPA Center is recognized within the European Association for Integrative Psychotherapy (EAIP) and the International Institute for Integrative Psychotherapy (IIPA). Integrative psychotherapy is one of the European recognized areas of psychotherapy that allows obtaining a European certificate in psychotherapy within the European Association for Psychotherapy (EAP).
Basic Information
Education in one school year includes 160 hours. The total duration of the training includes 3,200 hours, spread over seven years, of which at least four years must be training specific to psychotherapy.
It is usually held once a month – on weekends (usually on Friday afternoons, Saturdays and Sundays), with winter and summer breaks.
The educational program begins on September 10, 2021. with the first module on the topic: Integrative psychotherapy, development and comparison. The module is led by Gregor Žvelc, PhD, psychotherapist and supervisor.
The educational program is performed in two ways:
1. classic way: face-to-face, in the premises of the Center
2. distance learning: online via Zoom.
The competition remains open until September 7, 2021. Two seats available.
Online registration is required.
Methods of work
Methods of work include:
lectures,
practical exercises,
work in pairs and small groups,
group process,
video analysis of therapy,
demonstration of therapy,
case presentations and
supervision.
Duration and structure of 4.5 years of training
The training lasts 4.5 years, and after completing the training and successfully passing the final exam, candidates receive the diploma of Integrative Psychotherapist certified by BHIDAPA, with which they can directly apply for the European certificate ECIP certified by EAIP
The total duration of the training includes 3200 hours, spread over seven years, of which at least four years must be training specific to psychotherapy.
Training is performed once a month, extended weekend (20 hours), with summer and winter breaks.
The curriculum of education in the field of child and adolescent integrative psychotherapy consists of at least 4 years and includes at least 1500 hours.
EDUCATIONAL PLAN AND PROGRAM ENCOMPASSES:
theoretical part and research work (650 hours) through modules
clinical practice (400 hours)
supervision (200 hours) which can be realized individually and through group supervision
personal / personal psychotherapy (250 hours), of which 100 hours of growth and development (40 hours per year) are achieved during the entire educational program, through group processes. These hours of growth and development are included in the price of the educational year. The remaining mandatory hours (150 hours) during the 4th year of education, educators can realize through individual therapy and / or individual therapy in a group (max. 30%).
submitted and positively evaluated all essays during the training (8 essays – 2 in each educational year and 4 personal development profiles – 1 in each educational year), according to the criteria from the PLAN AND PROGRAM OF EDUCATION IN INTEGRATIVE PSYCHOTHERAPY;
Passed all written exams (40), according to the criteria from the PLAN AND PROGRAM OF EDUCATION IN INTEGRATIVE PSYCHOTHERAPY
Submitted final paper-case study;
Application for the final exam;
Passed the oral exam before the committee (three-member commission) and assessed according to the criteria of the PLAN AND PROGRAM OF EDUCATION IN INTEGRATIVE PSYCHOTHERAPY
The application procedure for obtaining the European Certificate for Integrative Psychotherapist can be found at (Application Procedures for the European Certificate – ECIP Application Procedures
Specifications for license renewal (re-registration) are regulated by European EAP standards and can be found on the website: https://www.europsyche.org/ecp/apply-for-ecp/cpd/.
Other hours are calculated through seminar papers / essays (three years), reading literature, case reports, exams and research papers, self-assessments, assessments, keeping a personal and professional diary, congresses, professional symposia, publishing scientific articles.
The educational program follows European standards (EIAP and EAP), and the hours may change accordingly.
Mapping cirrent training standards of education is in the process
EQF-7 – 120 ECTS acording to EAP guidelines
February, 2022.
Target group
The diploma in integrative psychotherapy is intended for those who want to become integrative psychotherapists and practice integrative psychotherapy with clients, families, couples and groups. Integrative psychotherapy is based on the integration of modern psychoanalytic psychotherapy (object relations, personality psychology, intersubjective approach), transactional analysis, gestalt therapy, client-centered therapy and other, especially developmental, neurological psychologically based theories and neurosciences. Integrative psychotherapy involves the integration of different psychotherapeutic approaches. Each of these approaches allows for a partial interpretation of behavior and is considered a valuable hypothesis of human action. To successfully complete this program the student must acquire knowledge and understanding of the problem, skills in applying interventions and competencies necessary for psychotherapeutic practice; should be able to understand clients and be motivated to help them, to promote flexibility and multidisciplinarity in their approach to problems, aware of intersubjective co-created therapeutic space.
​Enrollment requirements
Candidates who have a degree in academic studies (faculties of humanities, medicine or social sciences), worth at least 240 ECTS, can be included in the training for psychotherapists. It is necessary to submit the last academic diploma, online form for applying to the educational program, online form for membership and conduct an enrollment interview with the educational board.
If the candidate meets the above criteria, by signing the contract, the applicant acquires the conditions for enrollment in the educational program.
The student is entered in the book of student registers and in the registry book, and receives an education plan and program, index and code for the electronic library.
Note: If a student does not meet the requirements of the above requirements for inclusion of students in education, but has completed undergraduate and graduate university studies or integrated undergraduate and graduate university studies in another field, must have completed the study of propaedeutics psychotherapy.
Leaders of educational program
The training will be held by integrative psychotherapy trainers within the International and European Union for Integrative Psychotherapy (IIPA, EAIP).
The leaders of the educational program are:  Mirela Badurina, PhD, Sabina Zijadić Husić, Azra Arnautović, MD, PhD, ECIP psychotherapists, trainers and supervisors.
From left to right: Mirela Badurina, Bruno Van den Bosch, Hilde Vleugels, Sabina Zijadić Husić and Đana Lončarica.
Applications for the educational program and membership